Faux, fake, mock, meat analogs, or plant proteins; no matter what you call them, vegan meat products are more common than ever.
Not surprisingly, there has been a lot of talk about these products. Are they healthy? How do vegan meats help animals? Why would vegans want to eat something that is like meat if they don't eat meat?
And, perhaps the most asked question of them all, do vegan meats taste good?
Veggie burgers may not save the world, but they do save the life of cows.
Here's everything you need to know.
QUICK FACTS
CATEGORY
Tutorials
MIN TO READ
15
The Basics
If you've ever wondered what vegan meat is, this section is for you.
Meat-Free Basics
Often referred to as "fake," vegan meat products are quite real.
So, why do people call them fake?
A look back at the etymology of the word "meat" actually shows that the word is rooted in the Old English term, "mete," which meant "item of food." (1)
What is vegan meat?
Vegan meat — also called faux, fake, mock, meat analogs, or plant proteins — are products that mimic certain qualities of animal-based meat-like textures, flavor, or appearance, for example. They are made from various ingredients such as soy, textured vegetable protein, or wheat gluten, to name a few.
Note that there is a difference between "meatless" and "vegan meat."
The term "meatless" can refer to a product that still contains trace amounts of animal products (such as eggs, casein, whey, or other animal-derived enzymes).
On the other hand, "vegan meat" does not contain any animal ingredients at all.
Check the labels carefully when purchasing.
Should you eat vegan meat?
There are plenty of good arguments in favor of vegan meats.
First, for some people, they can help them transition into an entirely vegan diet. These products imitate products that people are already familiar with, making them easy to integrate into favorite meals. Plus, they're convenient. Most of them come precooked.
Next, the ritual of food plays a significant role in people's familial and social lives. Food is powerful in the way it brings people together. Having vegan options that mimic formerly traditional foods allow everyone to participate in the celebration. Not to mention, vegan meats taste good too.
Finally, but perhaps most significantly, when compared, vegan meats will have additional benefits over non-vegan ones by default.
There are ethical and environmental concerns surrounding the creation of animal products; living vegan addresses these.
But also, if we can live without harming others, why wouldn't we?
Vegan meats allow us to do precisely that.
Frequently Asked Questions (FAQ)
Answers to the most commonly asked questions about vegan meat.
Vegan Meats & Nutrition
Taste is subjective, but nutrition is not.
Here's some evidence-based nutrition information to consider when choosing to consume these vegan products.
Are Vegan Meats Healthy?
When talking about the nutrition of vegan meats, one point comes up more often than any other; the abundant amount of sodium they contain.
It's mentioned so often because it's true.
Salt as a flavor enhancer and preservative is ubiquitous in processed foods, and vegan items are not exempt.
While we need some in our diets to assist with functions like muscle contraction, it is possible to consume too much when relying on convenience items, like vegan meats.
How Much Is Too Much?
According to the Center for Disease Control & Prevention, the average American consumes slightly over 3,400 mg per day of sodium. This amount is over 1,000 mg more than the recommendation of 2,300 mg per day, which translates into around one teaspoon of table salt. (2)
So, what does that mean as far as food goes?
An average veggie sausage (think Tofurky or Field Roast) contains roughly 600 mg per link. A veggie patty can easily have 500 mg, while deli slices average 300 mg per serving. Add to this that you may be using bread or a bun, along with high salt condiments like pickles or ketchup, and you could easily push 1,000 mg for that single meat substitute portion of your meal.
Doing the math lets you see how it's easy to push the salt envelope if you consume these meat substitutes at most meals.
Why Do We Need Salt At All?
Our bodies need some sodium for essential functions like muscle contractions; however, salt can increase blood pressure in excessive amounts. This condition, known as hypertension, causes the heart to work harder. It can also stress other organs, like the kidneys, and lead to a stroke.
A diet high in sodium can raise blood pressure, and high blood pressure is a significant risk factor for heart disease and stroke.
Here in the United States, heart disease and stroke are the nation's first and fifth leading causes of death. (2)
Don't Eliminate, Diversify Instead
Must you give up your favorite vegan meat to maintain your sodium intake within the daily guidelines? Not necessarily, according to vegan dietitian Anya Todd MS, RD, LD.
The key is reducing your consumption, and adding some basic protein-rich staples into the mix will help balance out your sodium levels.
"There is no evidence that incorporating processed veggie meat into your diet has negative health impacts. For many people, these options enable them to transition more easily to being vegan, which is always a win in my book. Do I believe diets should be primarily based on whole foods? Yes, but I also think a healthy, compassionate diet can include some vegan sausages now and again, too."
Todd advises including other protein-rich plant foods like beans, tofu, and tempeh on the menu several times a week. All of which, in their natural states, are low in sodium.
Vegan Meat Shopping Guide
From burgers to bacon to wings; there are vegan versions of just about any meat product on the market.
For ease of use, the shopping guide is broken out into six different categories: Deli slices, bacon, and jerky; Burgers, sausages, hot dogs, and ribs; Chicken-style; Beef-style; Turkey, Ham, and Holiday Roasts; and Seafood.
No matter what you're searching for, it's bound to be here.
Shopping Guide Quick Navigation
There is no shortage of vegan meat options available to us today so this section is quite large.
To make it easier to navigate, find different categories to choose from below.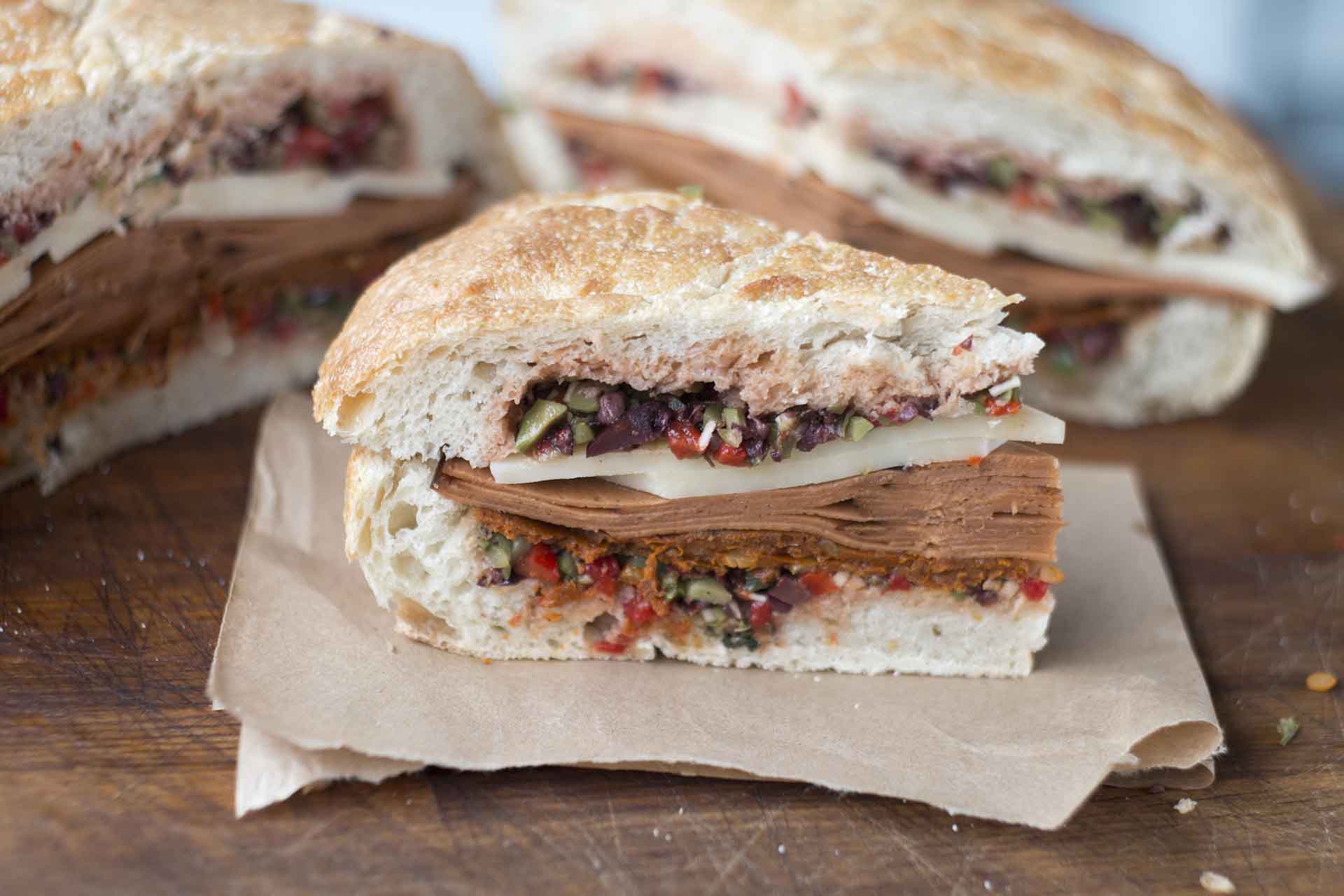 Deli Slices, Bacon & Jerky
Generally speaking, you'll be able to find vegan deli, bacon, or jerky in well-stocked grocery stores.
Look for them in two places; in the produce section in a refrigerated case alongside tofu and other meat-free products as is the case for deli meats and bacon, or in the snack aisle in the case of the jerky.
Vegan Deli Slices Brands
Vegan Bacon Brands
Vegan Jerky Brands
Vegan Burgers, Sausages, Hot Dogs & Ribs
Luckily, you'll be able to find a wide variety of vegan burgers, sausages, hot dogs, or even ribs in many grocery stores.
Look for them in several places; in the produce section alongside other meat-free products, in the freezer section, and also in the section with other dry mixes.
Vegan Burger Brands
Dried Burger Mixes
Vegan Sausage Brands
Vegan Hot Dog Brands
Vegan Rib Brands
Vegan Chicken-Style Nuggets, Patties, Strips, Breasts & Wings
Like other meat-free meats, vegan chicken products are available in most well-stocked grocery stores.
Look for them in the same places you'd find vegan burgers: in the deli case, in the produce section alongside other meat-free products, in the freezer section, and areas with dry mixes.
Vegan Chicken Brands
Vegan Beef-Style Ground, Strips & Steaks
Just like other vegan meats, vegan beef products are available in well-stocked grocery stores or natural markets.
Generally speaking, you'll spot them in two places; in the refrigerated section or in the freezer section.
Vegan Beef Brands
Vegan Turkey, Ham & Holiday Roasts
We live in the golden age of vegan products; no matter which foods are part of your family traditions, they can be recreated using plant-based alternatives.
Look for these vegan meat alternatives in refrigerated sections of health food stores and well-stocked grocers. Also, check the freezer section, sometimes the roasts are sold frozen.
Vegan Turkey Alternatives
It might surprise you to know that vegan seafood is available in larger grocery stores, as well in health food stores.
Look for them in two places; in tins in the canned aisle alongside non-vegan versions, or in the frozen section.
Vegan Seafood Brands
Truth in Advertising
I am committed to providing accurate information to the vegan community. Meticulously researched, the topic explored in this guide contains the knowledge available at the time of publishing. Reviews and updates happen when new material becomes available.
Please contact me if you find incorrect data.